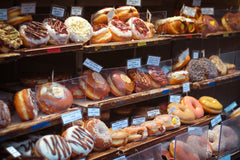 Planning a big event or corporate shindig in Sydney and searching for a tasty, crowd-pleasing treat? Look no further than donuts from Baked & Co! Our artisanal bakery offers a wide selection of delicious donuts that are perfect for any event or gathering.
Benefits of Our Delicious Wholesale Donuts in Sydney
Ordering wholesale donuts in Sydney is a great choice for many reasons:
They're everybody's favourite sweet treat
Firstly, donuts are a crowd-pleaser that everyone loves, making them a perfect treat for any event or gathering. Whether it's a corporate event or a private function, wholesale donuts are guaranteed to be a hit with your guests.
Variety of flavours
With so many flavours available, you can select the ones that will appeal to your attendees' preferences.
Easy to transport
Another benefit of using wholesale donuts is that they are easy to transport and serve. Unlike many other desserts, donuts do not require utensils or plates, making them ideal for serving at events. You can place them on a dessert table or platter, and your guests can help themselves.
Easy to store
Donuts don't require refrigeration, making them a convenient option for outdoor events or locations where refrigeration may not be available.
When you choose Baked & Co's wholesale bakery services, you get access to delicious, fresh, and frozen donuts wholesale, giving you more options to suit your event needs. Our donuts are made with high-quality ingredients and baked fresh every day, ensuring that your guests get the best-tasting donuts possible. 
If you need to order in advance or store the donuts for later, our frozen donuts are an excellent option. They are pre-made and can be thawed and served when needed, making them a convenient and time-saving option for events.
How to Choose the Right Donuts For Your Event
There are a few things to think about to make sure your event goes off with a bang.
Event theme
Firstly, consider the theme of your event. If it's a corporate event or a formal occasion, you may want to stick to classic flavours such as traditional glazed or chocolate. If you're hosting a more casual event or a party, you can opt for fun, playful flavours with sprinkles, fruity, or cream-filled donuts. This will help to create an enjoyable experience for your guests.
Dietary restrictions
The next thing to consider is your guests' dietary restrictions. At Baked & Co, we offer gluten-free and vegan options to cater to those with dietary restrictions. Make sure to ask your guests about any food allergies or dietary requirements ahead of time so that you can order the right type of donuts for your event.
Number of guests
Depending on the size of your event, you'll want to order enough donuts to ensure everyone gets a chance to try them. Baked & Co offers donut boxes wholesale, which make it easy to order in bulk and ensure that you have enough to go around. Additionally, if you're unsure about the number of donuts you'll need, our team can help you determine the right amount based on the number of guests and the length of your event.
Time of event
Finally, think about the time of day that your event is taking place. If it's a morning event, you may want to consider serving coffee and classic flavours like traditional glazed or cinnamon donuts. If it's an afternoon or evening event, you can offer a more extensive range of flavours, including chocolate, fruity, or cream-filled donuts.
Customised Wholesale Donuts in Sydney
Want to add a personal touch to your event? Baked & Co offers the ability to customise your donuts, with branded donut boxes and custom flavours to make your event even more unique. You can add your company logo or a personal message to our wholesale donut boxes, making it an excellent option for corporate events and business branding.
Ask Us About Our Corporate Donut Delivery
At Baked & Co, we believe that no event is complete without a delicious treat, and we're here to make sure you Donut Miss Out!
We offer bulk ordering options for your event. You can order donuts by the dozen, and we can deliver them right to your event location. This makes the entire process hassle-free, so you can focus on other aspects of your event planning.
Ordering our wholesale donuts in Sydney is a fantastic option for your next event or business bash. Our delicious, fresh donuts, customisation options, and bulk ordering and delivery services make us the go-to choice for your event needs.
Don't forget to check out our artisan range and place an order today. Also, sign up for our newsletter or follow us on social media for future updates and promotions.