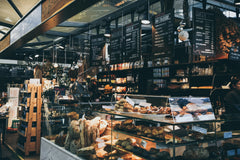 If you own a cafe or coffee shop in Sydney, you know that offering fresh baked goods is a crucial part of your business. A successful cafe relies on providing its customers with delicious fresh baked goods to have with their coffee or tea.
However, baking from scratch can be time-consuming, costly and challenging to get right every time. That's why our wholesale bakery in Sydney holds the secret to having a thriving coffee shop. Wholesale bakery suppliers can provide you with artisan baked goods at a competitive price, guaranteeing your customers a consistent and enjoyable experience.
Here at Baked & Co, we are your specialty wholesale bakery in Sydney, offering a delicious range of artisan bakery goods. Here we'll explore the benefits of using wholesale bakery services, which could help take your cafe to the next level.
How Sydney Wholesale Bakeries Provide the Winning Edge
Our wholesale bakery in Sydney offers a convenient, cost-effective solution to the challenges of baking from scratch. We can provide a range of products at competitive prices, with the infrastructure and resources to produce baked goods in bulk.
This means cafe owners can save time and money by ordering fresh bakery goods from a wholesale bakery, rather than hiring a full-time baker or investing in expensive equipment.
Benefits of Using Wholesale Bakery Services
In addition to saving you money, our wholesale bakery services offer a range of benefits:
Quality Assurance:

One of the most significant advantages of using a wholesale bakery in Sydney is quality assurance. We have a team of professional bakers with extensive knowledge and experience in producing fresh baked goods. This means you can trust that the goods you receive will always be consistent in taste texture and quality, and satisfy customers every time.

Convenience:

Another benefit is the convenience we offer. Baked goods are delivered fresh in the morning, meaning café owners can focus on other aspects of their business, such as customer service and marketing, without worrying about baking. This convenience allows you to provide a better overall experience to your customers, ultimately leading to increased customer loyalty and profitability.

Save Time and Money:

We do what we do best and focus on crafting artisan baked goods of the highest quality so you don't have to. (That's right – our bakers will get up early so you don't have to!) This frees you up to focus on running your business. It also means you won't have to invest in new equipment to fit out a whole new kitchen.
Talk to us today to find out how we can help you elevate your business.
Discover Our Artisanal Range and How It Can Enhance Your Menu
Here at Baked & Co, our artisanal bakery range is the perfect way to enhance your menu. We can provide you with a range of unique, high-quality baked goods that are sure to impress your customers – from artisan loaves to croissants, cakes, pastries, bagels, cookies, and more.
Our products are made using premium ingredients and traditional baking techniques, resulting in a unique and delicious taste your customers are sure to love. This can help you differentiate your business from competitors, giving you a competitive edge in the market.
How to Order from Our Wholesale Bakery in Sydney
Ordering from Baked & Co is easy. Simply browse our range of products, select what you'd like to order, then contact our team to arrange delivery. We offer fast, flexible delivery options across the city, making it easy to order the right quantity of baked goods to meet your business's needs.
So what are you waiting for? By partnering with a reputable and reliable wholesale bakery like Baked & Co, you can offer your customers delicious baked goods that are sure to put you on the map. Check out our artisanal baking products today and place an order to take your business to the next level.
Don't forget to sign up for our newsletter or follow us on social media for future updates and promotions. With Baked & Co's help, you can delight your customers with delectable baked goods. Feel free to contact us to find out more.