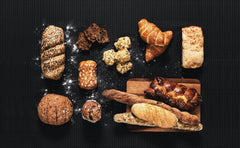 There's nothing like sitting down in a nice café and indulging in something scrumptious with your morning coffee. The experience can lift your mood and set you up for the rest of the day. That's why it's crucial to start the day just right – and your local coffee shop or café can play a big part in this.
If you own a cafe or coffee shop in Sydney, you know that offering premium bakery products play a big part in creating an exceptional café experience. Not only do they satisfy customers' sweet tooth, but they also make a nice accompaniment to their coffee and tea.
Here at Baked & Co, we are a leading wholesale bakery in Sydney, supplying delicious, freshly-made bakery products to local cafes, coffee shop and restaurants. With a focus on using high-quality ingredients and traditional baking techniques, our products are known for their unique taste and quality. 
So what are some of our top 10 must-try wholesale baked goods? Here we'll take you through some of our wholesale sweet treats that you might like to add to your café menu.
Premium Bakery Products to Try in Sydney
Sydney is a food lover's paradise, with countless cafes and bakeries offering a wide range of delicious treats to satisfy any craving. From buttery croissants to cinnamon scrolls and everything in between, here are some of our favourite wholesale sweet treats to try from Baked & Co in Sydney:
Croissants:

Buttery, flaky, and delicately crisp, croissants are a French classic that never go out of style. The perfect croissant should have layers of light, airy pastry that melt in your mouth.




Ciabatta

is an Italian bread that is well-loved for its chewy texture and crispy crust. Our ciabatta is made using a slow fermentation process that gives it a unique, tangy flavour. Try it with some olive oil and balsamic vinegar.




Glazed Donuts

are the quintessential sweet treat, and Baked & Co's glazed donuts are simply irresistible. These fluffy, doughy rings of goodness are coated in a sweet glaze that makes them a favourite among Sydney's sweet tooth enthusiasts.




Cinnamon Scrolls

are the perfect indulgent breakfast or afternoon snack. Our cinnamon scrolls are made with layers of sweet, buttery dough and a generous amount of cinnamon, which makes them irresistibly fragrant and delicious.




Bagels

are a classic breakfast food, and Baked & Co's bagels are a must-try for anyone who loves a good bagel. These chewy, dense circles of dough are perfect for any breakfast sandwich or even on their own.




Burek

is a traditional Balkan pastry that is made with flaky phyllo pastry and a savoury filling. Baked & Co's burek is filled with a mixture of feta cheese and spinach, which makes it a popular breakfast or lunch item.




Custard Tarts

are a Portuguese classic that is well-loved for their creamy filling and crispy pastry shell. Our custard tarts are made with a rich, silky smooth custard that is perfectly balanced with a crispy pastry crust.




Fresh Milk Buns

are a sweet, pillowy bread that is perfect for sandwiches or just on their own. Made with a combination of fresh milk and butter, which gives them a rich, tender crumb.




Chocolate Brownies

are a delicious, truly indulgent treat with a rich, chocolatey flavour and a fudgy, dense texture. They are made with simple ingredients such as butter, sugar, eggs, and chocolate, often enhanced with nuts, frosting, or other additional ingredients.
So if you're looking for delicious premium bakery products in Sydney cafes, you won't be disappointed with the range from Baked & Co. From flaky croissants to freshly baked buns, we have plenty of must-try items that will keep your customers coming back for more. 
Discover Our Wholesale Baked Goods in Sydney
If you're interested in trying these must-try bakery products, contact Baked & Co today to learn more about our artisanal baking products. 
As a 
wholesale baked goods supplier
, we offer a 
wide range of premium bakery products
, including sweet treats and baked goods boxes wholesale, that are perfect for cafes and coffee shops. Visit our website to learn more and 
contact us
to place an order today.